About Our History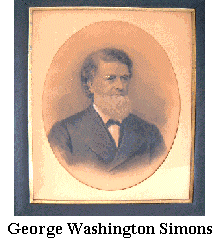 Born in 1819, George Washington Simons started his business in 1839. The City Directory for Philadelphia in 1842 had him listed as a manufacturer of gold and silver thimbles and pencil cases. His brother, P. Boneil Simons later known as Peter B. was also listed in the directory and later joined his brother in the business. The company grew rapidly in the next 20 years, expanding into manufacturing many other gold and silver items.
In 1858, George W. Simons & Brother is described as employing 60 people and manufacturing "gold and Silver pen and pencil cases ... gold, silver and steel topped thimbles, finger shields, tooth and ear picks, watch keys, gold pens, cane heads, bracelets, breast pins, earrings, finger rings, sleeve buttons, studs, guard slides, charms, seals, badges, etc". (1)
George Simons had also become a business leader, establishing a reputation for technical innovation "first to use steam advantageously" and having machinery "of the first class and embodies all the latest improvements".(1)
In the 1860's, as Japan was opening to the West, we find a newspaper report of Japanese ambassadors visiting the United States. This entourage was greeted in Harve De Grace by a contingent from Philadelphia and addressed by George Simons welcoming them to "the first manufacturing, and one of the greatest commercial cities in our country". (2)
During the Civil War, Simons added officers and presentation Swords to their line. Many of the finest Presentation Swords were made by this firm. Swords with gold hilts set with gems and etched and engraved blades are prized holdings at the Pennsylvania Historical Society in Philadelphia and the United States Naval Academy in Annapolis.
At the Internationl Exhibition in 1876, the Centennial Commission issued a metal and Certificate of Award to Simons, Opdyke & Co. for Gold and Silver work. (3)
About the time of the Centennial, Peter B. moved to San Francisco and established a branch of manufacture in that city. There, he can be found in the city directories listed both as Simons' Brothers & Co. and Peter B. Simons.
Also about that time, the four sons of the founder were admitted to the firm, John Farr Simons, George W. Jr., Frederick M. and Edwin S. Simons. Frederick M. had always worked in the business and Edwin S., the youngest son, was still a student at Princeton.
In 1893, Simons Bros. and Co. received a medal and award at the Columbian Exhibition. The award inscribed "Gold and Silver Thimbles For a Variety of Designs, Beautiful Patterns Studded with Gems, Fine Chasing, Quality of Jewels and Fine workmanship and Finish."
George W. Simons died in 1888 as did his son George W. Jr.
The founder's wife died in the first years of the 20th century.
On September 13, 1905, Simons Brother and Company was incorporated in the State of Pennsylvania. Frederick M., Edward S. (sic) and John F. Simons were listed as directors. (4) On December 1, 1905, the company name was officially changed to Simons, Bro. & Co., a name used previously, (5)
References:
(1) Philadelphia and its Manufactures: A Hand-Book exhibiting the development, variety, and Statistics of the Manufacturing Industry of Philadelphia in 1857 by Edwin T. Freedley, pub Edward Young, Philadelphia, 1858, page 345.
(2) Publie Ledger, Philadelphia, Monday, June 11, 1860.
(3) Ibid. p344, A Stacy B. Obdyke (sic) was also listed as a chain manufacturer
(4) Application for Incorporation and Incorporation Letters Patent issued 9/13/1905. Documents in the Simons Bros. Co. archives.
(5) Simons Bros. Co. archives